Looking for a way to clean out your TBR pile? Want to join other book lovers and bloggers to discuss those have-to-have summer reads?
Join us for the annual Summer Lovin' Readathon!
The week long read-a-thon will start Monday July 1st with daily events and giveaways. Then come and join us for a 24-hr marathon read-a-thon starting Saturday, July 6th from 10:00 a.m. EST to Sunday, July 7th at 9:59 a.m. EST.
You can chat about your progress on Twitter all week long using the hashtag #SummerLovin13
THE RULES:
1.) You do not have to be a blogger to participate in the readathon, but you must be signed-up in the linky below (if you do not have a blog - just link up to your Twitter or Facebook post saying you are going to participate in the readathon – Use #SummerLovin13)
2.) You must be 16+ to enter the giveaways
3.) All giveaway winners will be randomly chosen through Random.org
4.) Giveaway entries will be verified – no cheating!
Sign-up now by adding your name and a link to your sign-up post to the linky below. Then be sure to grab one of the Readathon buttons to add to your blog!
**Links must be direct links to your sign-up post in order to qualify you for the giveaways**
We are all about making things easy – so, here is a pre-formatted entry blog post for you! Just copy and paste into your blogs HTML post entry. Easy!
(Feel free to change the wording/formatting to fit your personal style,
but please do not remove the host links)
The Summer Lovin' Readathon is a week-long readathon event hosted by seven independent bloggers! (Oh, Chrys!, Tumbling Books, Effortlessly Reading, Love Life Read, Shelf Addiction, Read Sleep Repeat, and Reviewing Wonderland)
Spend the week reading at your own pace, when and how you want too. There will be daily challenges for awesome prizes and opportunities to get points toward the Grand Prize Packs.
As if that weren't enough – the week will end with a 24-hr marathon readathon! Twitter parties, mini-challenges, games, prizes given EVERY HOUR, and more chances to get points toward the Grand Prize Packs.
Sign-ups will be open through July 6th. I'm in, are you?!
Click to see a SAMPLE of this post.
Happy reading!!!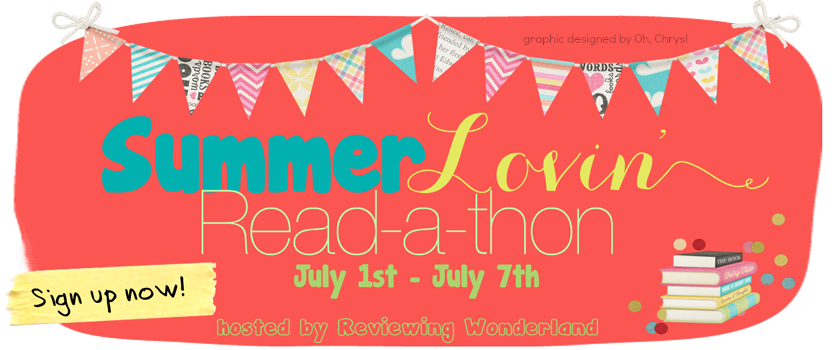 Participant List:
---
This linky list is now closed.